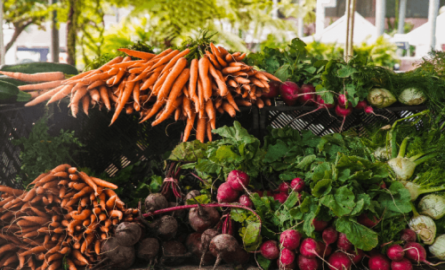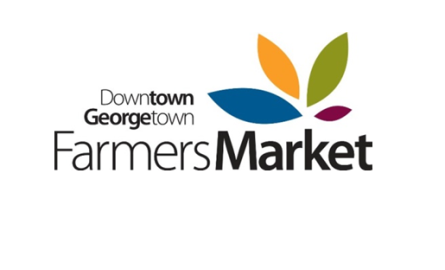 On Saturday, June 6, the Downtown Georgetown Business Improvement Area opened the 2020 Farmers Market season with some major changes.
The Farmers Market has to reviewed its entire operations with consultations with vendors, the Downtown Georgetown business community, Town of Halton Hills and the Halton Region Public Health Department. Following these consultations, a number of public safety protocols have been put in place.
Social Distancing Measures
To control pedestrian traffic the Farmers Market will be separated into four sections: Main Street South between Church Street and Mill Street; Main Street South between Mill Street and James Street; the Church Street Parking Lot; and the north side of the Back Street Parking Lot. Each section's entrance and exit points will barricaded with staff and volunteers monitoring pedestrian access. Similar to the protocols employed by grocery stores, spaced-out queues will form outside each section with only a limited amount of people being allowed within each section at a time. For the time being the Farmers Market will also be limited to just produce, food and flower vendors. Some additional protocols include:
Spacing vendors to be at least 2 meters apart.
No loitering or congregation of Market patrons.
A maximum of two patrons per vendor booth.
No sampling or touching of food.
Pick-up Location for Online Orders
An added feature to this year's Farmers Market is the online store through Local Line. Patrons will be able to order from their favorite food and non-food vendors and pickup at the Market during their allotted pickup time. The order pickup area will be limited to vehicular traffic only. Patrons will enter the parking lot area from Back Street where they will be greeted by staff. Without exiting from their vehicle, the patron will show the staff their order information. The staff will then locate the order, and place it within the patron's vehicle per the patron's direction.

"We've had such a strong demand for the return of the Farmers Market that we had to buckle down and rethink our entire operations from top to bottom," said Yaw Ennin, Downtown Georgetown BIA and Farmers Market Manager. "The changes we're implementing for this years Market will ensure that we continue to provide this essential service to the community, while ensuring the safety of vendors and patrons. We trust that patrons will be respectful and understanding of these changes."

The Downtown Georgetown Farmers Market will run every Saturday from June 6 to October 17 from 8:00 A.M. to 12:30 P.M. For more information, visit farmersmarketgeorgetown.com or follow the Farmers Market on Facebook and Instagram @GeorgetownFarmersMarket.