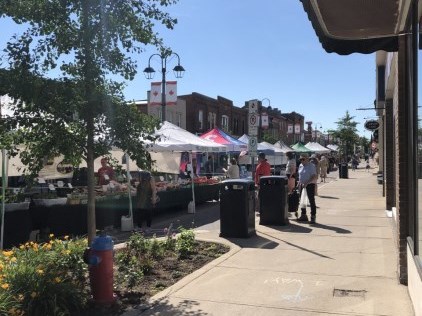 The Georgetown Farmers Market is a weekly tradition for some families and local residents in Halton Hills. Despite COVID-19, the market was able to open for the 2020 season as of June 6th, with safety and enjoyment in mind.
The Downtown Georgetown Farmer's Market runs every Saturday morning from 8am - 12:30pm from June 6th to October 17th 2020.
How long are the lineups?
To manage the flow of the people going through the market, you may be required to stand in a lineup or two as there are multiple sections featured at the market. These lines won't have you waiting long. The market would like to maintain a 2 person per vendor ratio, so lines may be longer depending on the time of day you visit. Volunteers are at each entrance to welcome you in and offer sanitizer if needed.
What kind of vendors are there?
The farmers market has been lucky enough to welcome back a variety of different vendors. You'll see vendors selling a variety of produce, meats, jewelry, handmade products like soaps, totes and lotions, and other sweet treats. Our vendors ask that you let them serve you, so please avoid touching products on display.
Where can I park?
Other than the church street parking lot, parking has not been compromised since the opening of the farmers market. You are still able to park on some side streets unless signs are otherwise posted, or in municipal parking lots nearby.
Are there any new protocols?
In addition to waiting in line, there are new protocols in place. Make sure to maintain a 2 meter distance from other people, follow the one way traffic and signs posted, and avoid congregating in groups. Masks are encouraged at the market but are not mandatory unless inside public spaces and shops. There are no public washrooms at the market so please plan accordingly.
How can I pay?
Lots of vendors have made it easier than ever to pay for products. Lots of vendors are accepting both cash and card.
Can I skip the lines?
There is something new at the market this year. Patrons are now able to order products from their favorite vendors online ahead of time and pick up on Saturday morning.
Helpful Links
For a full list of vendors, site maps and how to order online, click the links below.
Show us your photos!
We want to see all your photos from the Georgetown Farmers Market!
Tag us on Instagram @visithaltonhills.ca and use the hashtag #visithaltonhills
Photo Gallery: Georgetown Farmers Market will appear here on the public site.