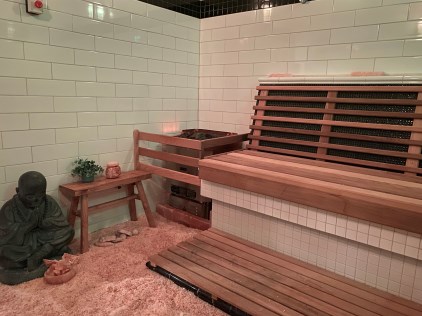 Scorpios Himalayan Healing Salt Cave & Spa
Did you know that Halton Hills is home to one of the most luxurious Himalayan Salt Cave Day Spas in Southern Ontario? Scorpios' Himalayan Healing Salt Cave and Spa is designed to be your main event for a day of much needed rest and relaxation in idyllic Georgetown. With a diverse array of services and holistic healing experiences on offer, this relaxation destination will leave you feeling completely refreshed and restored after your visit.
Beginning as a hair salon, this small business has been continually expanding and evolving for the last 13 years. Owner Tammie Field has grown, through her authenticity and warmth, a phenomenal team of practitioners to provide a dynamic spa and healing space. Whatever your favourite mode of self-care might be, Tammie's space has an experience you will love. From every spa treatment under the sun, to cosmetic treatments, sauna therapy, and the magical salt caves, the services provided at Scorpios ensure you leave feeling rejuvenated.
The Himalayan salt cave grew from Tammie's experience learning about the fascinating and compelling healing properties of these environments. Wanting to create a space where Georgetown residents and visitors could experience the profound benefits of the caves, Tammie went about expanding her spa into a fully immersive salt cave experience.
Salt healing, also known as "halotherapy" has been used for hundreds of years and is known for significant benefits associated with respiratory health. This form of holistic healing can be used to help treat respiratory conditions such as bronchitis, asthma, and the common cold. With powerful drying effects and anti-inflammatory properties, Himalayan salt contains approximately 84 natural elements that can be absorbed by the body and support improved overall health. To learn more about the Salt Caves, visit Scorpios' website.
Tammie has an incredible team, including Eleanor Mannell, who is a nurse practitioner working out of the space and providing Botox and injectables, and Krista Crawford, a fantastic esthetician and tattoo artist who specializes in semi-permanent makeup. The community at Scorpio's is truly astounding, and you will be greeted with nothing but warmth and kindness. The atmosphere at this spa is part of the experience of rejuvenation and deep rest.
Visiting the Himalayan Salt Sauna and the stunning caves was a wonderful experience. The time spent in this hidden gem of a spa will be truly transformative and is just what you need to unwind this summer!