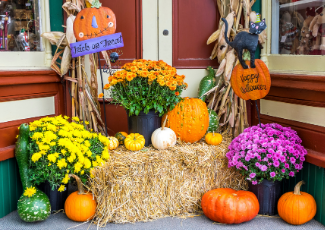 October Events in Halton Hills
The October events calendar and upcoming fall-to-winter season are chock-full of exciting events to attend and things to do in Halton Hills.
Arts & Culture
The ongoing Art for the Birds exhibition at Sisnett lobby in the Cultural Centre presented by the Bird Friendly Halton Hills team continues until October 23; this stunning display of art also inspires a meaningful opportunity to express gratitude and awareness for the diverse birds that call Halton Hills their home.
Come Celebrate the 10th Anniversary of the Citizens Hall at the Acton Town Hall Centre with Heritage Acton, Adi & Dale on October 21 from 5:45 p.m. to 10:15 p.m., which features a special performance by world-renowned jazz/pop vocal artist Adi Braun, and a three-course dinner prepared by Chef Dale McCarthy of Everton Culinary Academy.
Finally, take this fall to visit the picturesque hamlet of Glen Williams, and explore the dynamic artists situated in the Williams Mill Creative Arts Studios. From the colour and vibrance of the glass-blowing studios to the beautiful mixed media that reflect unique artistry from the range of artists at this special studio, Williams Mill is a destination that cannot be missed.
Haunted Halton Hills
There is no shortage of opportunities to celebrate the spooky season in Halton Hills, with an assortment of Halloween events in store. The community hub, Zapa Projects in Acton, is hosting their One Year Halloween Party on October 21 from 6:30 p.m. to 9:30 p.m.; be sure to stop by and join in the fun!
Andrews Scenic Acres is hosting their Spooktacular Halloween Market from Friday, October 20 to Sunday, October 22. Andrews is a true destination in every season, however, the bounty and excitement that fall brings to this entertainment farm is unparalleled! Come and enjoy local vendors, autumn activities, and some Halloween spirit!
Uncorked on Main is hosting their Night of the Living Dead Drag Show, Starring Anne Tique Doll, Ultraviolet and Van Goth on November 2 from 7:30 p.m. to 10:30 p.m.; join in on the party for an evening of "death-defying drag performances" from your favourite ghouls!
The Acton BIA is hosting their annual Trick-or-Treat on Main and Mill Streets on October 28. Be sure not to miss this wonderful Halloween event designed to fulfil the kids' trick-or-treating dreams, with the friendly faces at downtown Acton businesses giving away Candy and surprises! The schedule is as follows:
Trick-or-Treat on Main and Mill Streets Schedule | October 28
11:30 a.m. - Pumpkin Giveaway sponsored by Coldwell Banker Escarpment / Sarah Brophy-Platt (with the support and approval of the Town of Halton Hills & Downtown Acton BIA) Willow Street North from Mill Street to Bower WILL BE CLOSED for this event.
12:00 p.m. - 2:00 p.m. - Trick or Treat on Mill and Main Streets, hosted by the Downtown Acton BIA with the support and approval of the Town of Halton Hills. Mill Street WILL BE CLOSED from 11:30 am to 2:15 pm.
12:00 p.m. - 2:00 p.m. - 1st Acton Scouting Group's Scarefest at the Scout Hall.
12:00 p.m. - 2:00 p.m. - Acton Library Branch trick or treat stop and Halloween Activities.
4:00 p.m. - The 2nd Annual Downtown Acton Zombie Walk, starting at the Mews Plaza and wandering a planned route through Downtown Acton.
Finally, attend the public, family-friendly Trunk or Treat event at the Georgetown hosted at Living Hope Church in Georgetown on October 31st for an evening of trick-or-treats, a bouncy castle, pumpkin carving, a family photo booth, and more!
For more upcoming events, visit our events calendar!