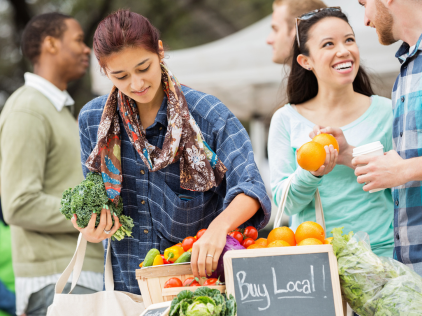 Halton Hills Outdoor Markets
Market season is upon us! With late spring's bounty just around the corner, our local craftspeople, farmers and artisans will have the opportunity to gather and sell produce in celebration of community and shopping local. The Georgetown Farmer's Market and Acton Outdoor Market are weekly must- attends in Halton Hills, with vibrant vendors offering everything from fresh produce to jewelry, pantry goods, and more.
The Acton Outdoor Market, formerly the Farmer's Market, will be held in Prospect Park, 30 Park Ave, Acton ON, on Thursdays from 4pm- 7pm June 1st to October 5th, 2023. A wide variety of vendors will be featured including Wellington Beer Company, Country Crops, and Mandi's Breads, Bagels, and Beyond. Parking is available at the location.
The Georgetown Farmer's Market will be held Saturdays from 8:00am - 12:30pm June 3 - October 14, 2023. Also offering a rich array of products and sustainable produce from the lush farmland in Halton Hills and surrounding area. The market takes place along Main Street South, in downtown Georgetown from Church Street to James Street, and as in the parking lot at the corner of Main St and Church St. There is free parking on the streets adjacent to the market and in the municipal lots near the market. Additionally, bicycle racks are available in the parking lot at the corner of Church St and Main St South.
Local food, drink, farming, and artistry is the cornerstone of Halton Hills' culture. Our markets encapsulate the beautiful marriage of bucolic rural and colourful urban life that is what makes the region unique. Come on out, shop local, and enjoy the changing of seasons with our market experiences! Click on the heading above to visit our Calendar for more exciting events in Halton Hills.