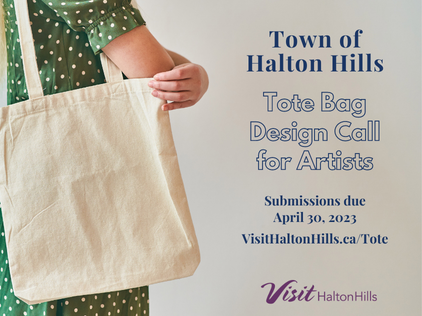 ARTIST CALL IS NOW CLOSED
Calling all Halton Hills Artists!
The Town of Halton Hills Visit Halton Hills Tourism Program invites professional artists to submit a design for our canvas tote bags to be distributed to the public at 2023 events.
The design should be representative of Halton Hills and suitable for reproduction on fabric canvas. The artwork should be an original, hand-drawn or painted design (no photographs or digitally created designs will be accepted). The Town will be responsible for the fabrication of the tote bags. Submissions should be provided as high-resolution digital file in PDF format.
Two designs will be chosen and each will receive $1,000.
Eligibility
This competition is open to professional artist and artist/artist-led teams based in Halton Hills.
*As per the Town of Halton Hills Public Art Policy (2016) an artist is: A person, who is objectively recognized as an artist, possesses training, skill, and/or experience in his or her artistic discipline; is active in and committed to his or her art practice, and has a history of public presentation.