The Helson Gallery
The Helson Gallery features rotating exhibitions of local art, private collections and travelling exhibitions. Located within the Library & Cultural Centre, visitors can also enjoy artwork in the Sisnett Lobby.
The Helson Gallery reopened to the public on July 14. Gallery hours are Tuesday – Saturday from 10am – 12pm. Please note that the gallery is staffed by volunteers and hours are subject to their availability. Check out our virtual exhibitions, art lessons and #VirtualVault social media feature.
We are taking the following steps to ensure your visit is safe:
A maximum of 8 people will be allowed in the gallery at any time.
We request that you sign in to facilitate contact tracing should this be necessary. Hand sanitizer is provided.
Wearing a face mask is recommended and physical distancing of 2 meters will be observed in the gallery.
Our volunteer docents are available to answer your questions and have been required to complete a self-assessment check before starting each shift.
Sanitizing of public spaces in the Cultural Centre including the gallery and washrooms is done frequently throughout the day.
Currently on View - Virtual Exhibition
Photo Gallery: Bruce Andrews Collection will appear here on the public site.
The Collector's Eye - Selections from the Bruce Andrews Collection
A selection of paintings and prints from the extensive collection of local resident, Bruce Andrews.
Almost everyone collects something and our collections reflect who we are. For long-time Georgetown resident Bruce Andrews, a passion for collecting has led him to amass over 1,000 works ranging from Canadian historical and contemporary, to local and international art.
Past Exhibitions
Each year, a selection of approximately six exhibitions is presented in the Helson Gallery featuring works from community artists, private holdings, and the Town's growing collection of art which includes the culturally significant Helson Collection. Learn more about past exhibitions here.
Create to Learn
Attention Teachers, Parents and Students! Our Create to Learn curriculum-based art lessons provide easy step-by-step instructions to create inspiring works from materials readily available at home! Grade differentiated programming for kindergarten and grades 1 to 4 and 5 to 8 draws upon examples from the The Collector's Eye – Selections from the Bruce Andrews Collection, connecting students to art in their community.
Photo Gallery: Virtual Vault will appear here on the public site.
Virtual Vault
The Helson Gallery is now open during limited hours! Not ready to visit the gallery just yet? You can still enjoy the Helson Collection virtually. Follow us on the Town of Halton Hills' social media using the hashtag #VirtualVault to discover treasures from the Collection of Frederick Helson, a gift to the Town of Halton Hills in 2013. The collection features over 100 culturally significant works by historic Canadian and European artists.
The Helson Collection
At the heart of Frederick A. Helson's outstanding gift of art to the Town of Halton Hills is the story of how Canada's artistic identity was forged during the late 19th and early 20th centuries. As revealed through paintings by members of the Group of Seven, their predecessors and contemporaries, the Helson Collection also allows us to trace the evolution of the various organizations which supported artists during this critical time period. Additionally, an important group of European paintings afford valuable insights into artistic trends which paralleled those in Canada.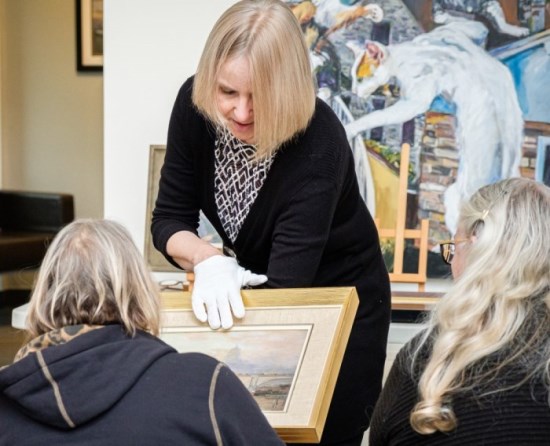 Exhibition talk with Helson Gallery Curator Judy Daley