Fall 2021 at the Helson Gallery
With new exhibitions, events and programs, there's a lot to see and do at the Helson Gallery this fall!
---
Currently on view in the Sisnett Lobby
Photo Gallery: Close to Home will appear here on the public site.
Close to Home
September 7 - October 10
The Helson Gallery presents a selection of new work by the Halton Hills Plein Air Artists (HHPAA) which includes Monica Burnside, Carol Hughes, Sheila Mitchell, Beatrice Roche, Rose Scully and Susan Ying. The group meets every Thursday from spring to late fall to paint in a Halton Hills area park. During COVID-19, these meetings have added to group members' appreciation of nature and have fostered friendships in art.
---
Currently on view in the Helson Gallery
Re-emergence: New Work by Artists of Halton Hills
September 22 - November 14
As we cautiously re-emerge from the pandemic and months of isolation, we examine how local artists have nurtured their creativity and found inspiration during COVID-19. Featuring work in a variety of media completed in the past year, this exhibition provides a unique glimpse into the power of imagination.
Photo Gallery: Re-emergence will appear here on the public site.
The Helson Gallery features rotating exhibitions of local art, private collections and travelling exhibitions. Located within the Library & Cultural Centre, visitors can also enjoy artwork in the Sisnett Lobby.
The Helson Gallery is open Wednesday - Sunday from 1-5pm. Please note that the gallery is staffed by volunteers and hours are subject to their availability. Masks and social distancing are required.
---
Past Exhibitions
Each year, a selection of approximately six exhibitions is presented in the Helson Gallery featuring works from community artists, private holdings, and the Town's growing collection of art which includes the culturally significant Helson Collection. Learn more about past exhibitions here.
Create to Learn
Attention Teachers, Parents and Students! Our Create to Learn curriculum-based art lessons provide easy step-by-step instructions to create inspiring works from materials readily available at home! Grade differentiated programming for kindergarten and grades 1 to 4 and 5 to 8 draws upon examples from the The Collector's Eye – Selections from the Bruce Andrews Collection, connecting students to art in their community.
Photo Gallery: Virtual Vault will appear here on the public site.
Virtual Vault
Enjoy the Helson Collection virtually! Follow us on the Town of Halton Hills' social media using the hashtag #VirtualVault to discover treasures from the Collection of Frederick Helson, a gift to the Town of Halton Hills in 2013. The collection features over 100 culturally significant works by historic Canadian and European artists.
The Helson Collection
At the heart of Frederick A. Helson's outstanding gift of art to the Town of Halton Hills is the story of how Canada's artistic identity was forged during the late 19th and early 20th centuries. As revealed through paintings by members of the Group of Seven, their predecessors and contemporaries, the Helson Collection also allows us to trace the evolution of the various organizations which supported artists during this critical time period. Additionally, an important group of European paintings afford valuable insights into artistic trends which paralleled those in Canada.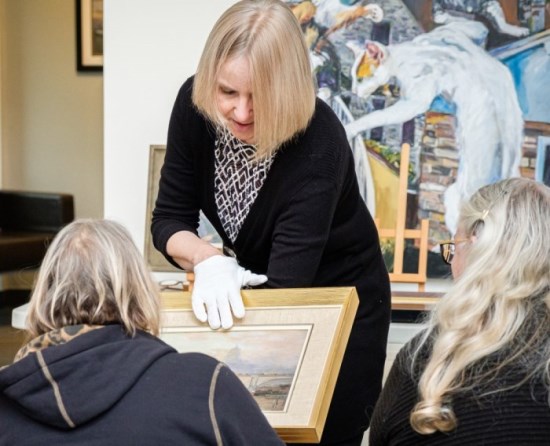 Exhibition talk with Helson Gallery Curator Judy Daley